Matatoa - Supplying New Zealand Native & Exotic Tree and Shrubs


TRUSTED GROWERS FOR OVER 25 YEARS - SUPPLYING DIRECT FROM THE NURSERY and NOW ACTING AS PLANT BROKERS FOR:

Farms (see our information on Poplar and Willow Poles)
Lifestyle Blocks
Home Gardens
Landscapers
Street & Park (Amenity plantings)
plus Shelter & Hedging varieties and Trees, Poles and Stakes for river and hill stabilisation. We also supply large Specimens for instant landscaping.
SPECIALIST GROWERS OF SMALL AND LARGE GRADES OF NZ POHUTAKAWA (Metrosideros species)
Trees for farms and lifestyle blocks - With years of experience behind us, we can help you make the right choices from New Zealand native trees and shrubs to exotic species suitable for quick shelter or nurse shelter.

We have been growing trees and shrubs for over 25 years and have personal experience with the growth and habit of a large number of species .




PLEASE NOTE: CHANGES FOR 2011

WE HAVE CHANGED OUR BUSINESS FOR 2011 AND NO LONGER HAVE A LARGE DISPLAY OF STOCK OPEN FOR DRIVE IN CUSTOMERS.

WE STILL HAVE OUR OWN TREES AND SHRUBS AVAILABLE ON SITE, BUT WE WILL ALSO ACT A S A BROKER FOR CUSTOMERS WANTING TREES AND SHRUBS FOR LARGE SCALE PLANTING PROJECTS

TREE AND SHRUB ORDERING WILL BE AVAILABLE VIA OUR WEBSITE OR EMAIL FROM AUTUMN 2011. In the meantime, enjoy your summer and keep your valuable plants watered in dry spells.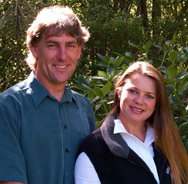 Whilst we are closed during the summer, you can still use this database we have created to help you plan the development of a new easy-care garden or farmscape, or enhance an existing one. Our research and experience have enabled us to provide on this site a comprehensive, searchable database to help you to select from the large range of native and exotic (non-native) plants available at our nursery.

Combining quality plants, with your landscaping vision, we are sure you will have every success in creating your dream garden, lifestyle, or farm environment.

Wishing you every success with beautifying your landscape

Chris and Jeanine (Jen) Hathaway